The Berkshire Conference of Women Historians is pleased to announce the following awards for books and articles published in 2021.
Book Awards
We would like to thank all of the authors who submitted their first book for consideration in fields of history that are not focused on the history of women, gender, and/or sexuality. This year's submissions were particularly strong and led our committee members into a long discussion of the merits of each one of the finalists.
For a first book in any field of history that does not focus on the history of women, gender, and/or sexuality

2021 > Shahla Hussain, Kashmir in the Aftermath of Partition (Cambridge University Press, 2021)
Hussain's work offers one of the first historical accounts of post-Partition society and politics in Kashmir, a region that has been categorized as a conflict zone ever since the creation of India and Pakistan in 1947. Because of its status as a disputed territory, Kashmir has been studied mainly by scholars of political science or international relations. It also figures prominently in global policy literature focusing on issues of national security and sovereignty.
In contrast, this monograph centers on Kashmiri people, social structures, and the ever-evolving idiom of Kashmiri politics. In particular, Hussain's book examines the meanings inherent in the resilient yet controversial slogan of azadi (freedom), demonstrating an innovative approach to nation building. By emphasizing the limitations of modern political categories such as territoriality, sovereignty, and nation state, the book offers a critique of colonial and post-colonial political maternities in South Asia.
Kashmir in the Aftermath, moreover, demonstrates archival ingenuity; the author created an "alternative archive for reconstructing the Kashmiri consciousness" based on ethnographies to center people's historical memory. Hussain's work is a well-researched and well-argued book on a global region that has witnessed extraordinary human sufferings in the past seventy-five years and yet has received negligible scholarly attention.
Honorable Mention: 2021 > Alaina E. Roberts, I've Been Here All The While: Black Freedom on Native Land (University of Pennsylvania Press, 2021)
Roberts' book examines the connections between slavery, freedom and settler colonialism in Indian territory from the long nineteenth century. Using family history throughout the narrative, Roberts challenges the established definitions and boundaries of key concepts that have been taken for granted in recent scholarship—settler colonialism, Reconstruction, citizenship, and freedom. Through a well-researched study, she unpacks the complexity of the exchanges and meanings of freedom, without shying away from difficult decisions on land claims, violence, "civilizing" and economic processes, claims of citizenship, and reparations. Roberts not only challenges our understanding of Reconstruction as a political process which focused on African American civil rights, she also adds to our understanding of the History of the West, with a focus on the tense relationship between African American and Natives rights and federal intervention. 
Honorable Mention: 2021 > Corinna Zeltsman, Ink under the Fingernails: Printing Politics in Nineteenth-Century Mexico (University of California Press, 2021)
At the crossroads of intellectual and social history, this study changes our understanding of how individuals harnessed the power of print to make political claims. Zeltsman shows that printers were intellectuals, not mere typesetters, or technicians. This from-below perspective challenges the historiographical bias towards writers and politicians, as if they alone participated in the liberal projects to build republics after the age of revolutions in the 19th-century Atlantic world. She shows that printing shops were akin to the cafes and salons usually evoked in histories of the public sphere. There, people with ink-colored hands formulated and debated ideas about citizenship, casting themselves as critical actors in the rise of the new state. Innovative as well is the reconstruction of the workings of these shops and her evocation of the work required to produce newsprint. Focused on Mexico, the study's findings have implications for the engagement of non-elites in post-colonial states in other parts of the world.
For a first book that deals substantially with the history of women, gender, and/or sexuality
We would like to thank all of the authors who submitted a first book that deals substantially with the history of women, gender, and/or sexuality. This year's competition led the committee to award the prize to one book and highlight a particularly strong honorable mention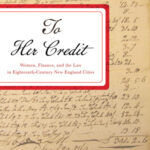 2021 > Sara T. Damiano, To Her Credit: Women, Finance, and the Law in Eighteenth-Century New England Cities (Johns Hopkins Press, 2021). 
Damiano's book explores the gendered politics of credit and legal practices in eighteenth-century New England. Damiano's work engages and revises such established academic modes of analysis as the public and private divide, and at its core the very notion of the household. She demonstrates that, in eighteenth-century British America, the household was a "public, heterosocial space" and, likewise, that the public space did not stop at the threshold of the household. In doing so, she challenges our understanding of the development of capitalism by centering the transformative role that women played in the economic development of cities such as Boston and Newport and the British Atlantic world more generally. 
The work is rigorously researched, conceptually generative, and carefully thought-through with laser-sharp analysis. The author's close reading of the sources allowed her to offer a vibrant and accessible narrative which conveys complex and sophisticated ideas that capture the reader. The book, which recasts the debates on patriarchy and the role of women in colonial economic spaces, will influence scholarly debates beyond its field's boundaries.
Honorable Mention: 2021 > Suzanne Kahn, Divorce American Style: Fighting for Women's Economic Citizenship in the Neoliberal Era (University of Pennsylvania Press, 2021)
Kahn's book examines why and how feminist divorce reformers—women who had lost their political, economic, and cultural status following their divorce—joined feminist organizations to advocate for change and for the expansion of their relationship to the state through benefits such as social security, child support, and property rights. This rigorously researched and conceptually generative study invites scholars to rethink and revise the way we think about Second Wave Feminism, particularly in terms of its chronology and the issues and actors that propelled it. The study highlights the generative concept that marriage, and in parallel divorce, was "a political and politicizing institution." This new account shows that the 1970s feminist agenda extended well into the 1980s, which will force scholars to rethink the temporality of the women's rights movement. 
2021 Berkshire Book Award Committee
Julie de Chantal, Georgia Southern University – Chair
Ashley Baggett, North Dakota State University
Christian Crouch, Bard College
Jeannette Estruth, Bard College
Anna Krylova, Duke University
Tatiana Seijas, Rutgers University
Priyanka Srivastava, University of Massachusetts Amherst
Article Awards
For an article in the fields of the history of women, gender, and/or sexuality

2021 > Sandy F. Chang, "Intimate Itinerancy: Sex, Work, and Chinese Women in Colonial Malaya's Brothel Economy, 1870s-1930s," Journal of Women's History 33, no. 4 (2021): 92-117.
Chang's layered study of sex workers in the late nineteenth and early twentieth centuries draws on an impressive range of sources, from temple inscriptions to police reports. The committee was particularly struck by her ability to lace these different approaches into building a nuanced understanding of this community. Her focus on migrant workers is obviously relevant for scholars in other fields and we commend this powerful essay.
Honorable Mention – Jacqueline Antonovich, "White Coats, White Hoods: The Medical Politics of the Ku Klux Klan in 1920s America," Bulletin of the History of Medicine 95, no. 4 (2021): 437-463.
Antonovich's work, focusing on reproductive surveillance, has continuing relevance – both for historians and those considering the world today. Her fluid style creates a narrative drawing in the reader, and her depth of scholarship brings forward another side to the race nationalism of the KKK.
For an article in any field of history other than the history of women, gender, and/or sexuality
2021 > Adriana Chira, "Freedom with Local Bonds: Custom and Manumission in the Age of Emancipation," The American Historical Review 121.3 (2021): 949-977.
The winning article demonstrated creativity in scholarship and expression. The committee found Chira's work to be innovative in its approach and exploration of those seeking manumission from slavery. Considering social networks as a "resource" in the manumission process offers a new facet for understanding this matrix.
Chira also considers the grey area between enslaved and free, building on scholarship considering the nature of identity and freedom among enslaved peoples.
Honorable Mention – Choon Hwee Koh, "The Ottoman Postmaster: Contractors, Communication and Early Modern State Formation," Past & Present, Volume 251, Issue 1, May 2021, Pages 113–152.
Choon Hwee Koh impressed the committee with this paper discussing outsourcing of communication networks in the early bureaucratic age. Her study speaks beyond the Ottoman empire of its focus to scholars studying state-building and control in other periods and places.
2020-2021 Berkshire Article Award Committee
Katrina Gulliver, Bristol, Chair
Maria Bucur-Deckard, Indiana University, Bloomington
Margaret H. Darrow, Dartmouth
Victoria Hodgson, Bristol
Pernille Ipsen, Wisconsin
Amanda Ricci, York University
Karin Rosemblatt, University of Maryland
Nichole Rustin, Rhode Island School of Design
Rachel Sandwell, Rhode Island School of Design